AXION micro5
The Finest ULF Microcurrent Machine Available
Advanced Microcurrent Equipment and Training . . .
Over 30 Years Experience.
Add Seven Cash Services to Your Business TODAY!
Facial Rejuvenation, Weight Loss, Stop Smoking, Acupoint location and stimulation, Treating general aches and pains, this unit does it all and has for over 30 years!
*Disclaimers
Watch our new primer on microcurrent:
Unlocking the Secrets of Microcurrent Stimulation
---
True Clinical Microcurrent Machine
Ask about our Stop Smoking and Weight Loss Packages
Use the Body's Own Healing Response
For over 30 years, microcurrent stimulation has been the #1 method of pain control and healing enhancement. Let us show you why it still is #1 today!
The body's response to injury and healing is electrical. The AXION micro5 uses the exact same electrical energy as the body to speed up healing and reduce pain and inflammation.
Technical Specs
The AXION micro5 is an effective, non-invasive microcurrent stimulator. Microcurrent acts similar to the body's own impulses, thus helping the body to heal itself. Some common uses include: acute and chronic pain, swelling, TMJ dysfunctions, post-op care, sports injuries and arthritis. Safe to use with children. Features positive, negative and the Tsunami® wave.
• Includes Probe handle set, Hand mass, Q-tip™ holder, Electrode wire with pin and Indifferent electrode wire with banana jack.
State of the Future Technology
No Pain, Your Gain™
Learn how the AXION micro5 Helps . . .
---
The AXION micro5 continues the tradition of being the premier Acupoint/Trigger Point locator and measuring device.
Dr. Thomas Wing invented and patented the use of dual wet-Q-Tips to deliver the current. This system creates a perfect method of painless treatment and the most effective way to administer facial rejuvenation techniques.
Stimulation can also be delivered unattended through electrodes.
---
Facial Rejuvenation Training Program:$1,495
Dr. Joe Ventura started offering facial rejuvenation programs in 1982, using the original protocols of Drs. Wing and Goodheart and the GTO micro technique.
The AXION micro5 is one of the ORIGINAL facial rejuvenation machine and no other device is more effective.
Our Microcurrent facial training philosophy is simple: Time is Money.
If a movement or setting has no physiological purpose, it's not used. So far I have looked at five techniques used by other companies and found movements and equipment settings that cannot possibly be having an effect. They defy physiology. There are three goals in a Microcurrent facial: Muscle toning, muscle relaxation and facial point stimulation. This is what I teach.
I use the original Golgi Tendon Organ Technique. It's precise and fast. It's based on muscle physiology and anatomy. It's easy to learn. I can teach you through online video and from workbooks and charts. The GTO micro technique is fast. A complete session is 20 minutes or less. Not an hour, not 40 min, but 20 minutes or less. Time is Money, and I just tripled your potential income. It's effective. The GTO micro technique was originally developed and used on Olympic athletes starting in 1984 to tone and stretch body muscles subject to stress injuries. It continues to be used today.
The training is a combination of high definition video and phone consultations, wall charts and marketing posters.
---
Advanced Clinical Training Manual in Print or Digital Format: NEW for 2012
Only $500!
Generic Version or AXION micro5 Specific Versions Available
New Advanced Training System, Unlocking the Secrets of Microcurrent Therapy: History, Research, Protocols and Techniques by Joseph Ventura D.C.
Dr. Ventura is one of the most experienced microcurrent experts around. He started using a microcurrent device in his sports injury practice in 1980.Next he designed some of the most advanced microcurrent devices ever, and worked with the FDA to establish the category of micro-TENS. His Axion micro5 unit was the first to gain FDA approval for it's probe searching system in 1989 and was the first 100% digital microcurrent device. His first protocol manual was published in 1991 and his first video series in 1994. "I have a passion for microcurrent that hasn't waned in over 30 years. It just works, naturally." says Ventura. "And, I can pass that knowledge and passion on to you through this training system", he added.
As the manual's title suggests, the contents are all about the history of microcurrent research, protocols and techniques. "Some have tried to tie microcurrent results with complicated formulas of settings. That's not the way it was or the way it needs to be." said Ventura. "I will show you a simple method used by the pioneers of microcurrent: Becker, Wing, Cheng, and myself, to treat every musculo-skeletal condition that patients present to your office.
The manual is available in printed format or digital version for download.
What's In The Manual
Unlocking the Secrets of Microcurrent Stimulation includes detailed explanations of microcurrent stimulation and it's use for pain, inflammation, muscle work and acupuncture point location and stimulation. It includes all the illustrated acupuncture meridians, formula points for 76 musculoskeletal conditions, research studies and a detailed history of microcurrent stimulation. Special techniques are discussed like Surround the Dragon, Dual Probe and Magic Hands techniques. It also describes a secret method of proving microcurrent to your patients.
---
Complete Training and Marketing Kit - $4,000.
Protocol Manual

You will also have access to seven different training videos various demonstrating the techniques in the training manual.

10 Full Sized (24"x36") Charts and Posters

Access to Dr. Ventura for personal consultations
Dr. Ventura uses a no-nonsense approach to clinical microcurrent. You will learn how to get world-class results right out of the box. Make sure you get the maximum return and order this kit today.
All posters and charts are printer on heavy photo stock and measure 24"x36".
---
Here Are Some of the Marketing Materials
We have created a series of posters and charts, as well as expert training with Dr. Ventura to help you market your new microcurrent services to the community. Adding services for weight loss, stop smoking, fibromyalgia and even facial rejuvenation are just a click away. Visit our web store, or call for details and pricing.
Stop Smoking
Most clinics would love to add a Stop Smoking cash revenue but have no idea how to get started. With an AXION micro5 in your office and our expert training, you are just a few days away from becoming an expert in your area.
In addition to equipment training, we also provide you with the necessary charts for treatment and posters for marketing.
---
Help With Weight Loss
As with the Stop Smoking program, the body responds to electrical stimulation of specific acupuncture ear and body points. These short sessions can return big dividends for your patient and for your office.
---
Facial Rejuvenation Programs
Dr. Joe Ventura started offering facial rejuvenation programs in 1982, using the original protocols of Drs. Wing and Goodheart.
The AXION micro5 is one of the ORIGINAL facial rejuvenation machine and no other device is more effective.
We simplify the process down to about a 25 minute session. Our advanced training will get you comfortable and confident with the procedure in no time AND you never have to leave your office or home.
Contact us regarding the VENTURA-MANN Seminars for facial Microcurrent
---
Fibromyalgia and TMD Programs
We also offer technical training and marketing materials to help your fibromyalgia and TMD patients.
All this and more when you purchase our optional training and marketing package.
---
Stress Reduction
Dr. Ventura has developed a technique for stress reduction that combines ancient and ultra-modern techniques. Stress is still the #1 killer. Add this cash service to your practice to help your patients and your bottom line.
---
Why Microcurrent is So Effective
233 Reasons To Use Clinical Microcurrent
Microcurrent Stimulation could be one of the most researched for:
Healing

Cell Regeneration

Tissue Recovery
Swelling/Inflammation

Recovery Time

Chronic/Acute Pain
ATP Production

Bone Repair

B-Endorphins
Here is a list of 233 research articles
The results from True Clinical Microcurrent Stimulation (TCMS) have been outstanding for over 30 years.
In the 80's & 90's virtually every big college, professional athletic and Olympic teams started buying TCMS to keep their athletes on the field of play. Superstars like Carl Lewis routinely endorsed their benefits. Carl even bought his own unit for when he traveled.
You will NOT get TCMS from a cheap, hand-held unit. The marketplace is flooded with devices claiming to be microcurrent stimulators, and technically they are. While the final output may be in the microcurrent range, there is much more that determines TCMS, and ultimately the effectiveness of the therapy.
A TCMS stimulator MUST have the following output parameters:
Constant Current Generator

+/- 60 Volts

Modified Square Wave, or Sloped Square Wave

Alternating Polarity

50% Duty Cycle

Frequencies down to .1 Hz
All of these parameters are critical to TCMS. If your device does not have this configuration, you don't have a TCMS device.
Here's why some of these parameters are important.
Constant Current Generator - As the name implies, the microcurrent output stays constant, even in the face of increased resistance. This is critical with a sub-sensory current. Otherwise you can't be guaranteed the correct amount of current is being delivered.
+/- 60 Volts - Dues to the high resistance of the skin and electrodes, you need sufficient voltage available to maintain the current at the preset level.
50% Duty Cycle - When using frequencies below 1, the body is receiving a continuous direct current which breaks down the skin resistance quickly and provides a deep penetration of the current.
Alternating Polarity - Creates a "push-pull" ion effect, and reduced ion accumulation under the electrode pads or tips.
---
---
The Lost Art of Microcurrent Stimulation
By Joseph Ventura D.C.
©2014 VenturaDesigns

The lost art mentioned in the title isn't some secret ritual practiced by a lost tribe in the Andes. Nor does it refer to the ancient use of torpedo fish or electric eels, or some other sort of obscure electrical generator to treat the human body. What I refer to is clinical microcurrent stimulation. From about 1984 to 1994 there was not a more dynamic modality to assist a patient in getting better faster, naturally.

It was used in every Olympics starting in 1984, and by virtually every pro football, baseball and basketball teams, and in many major college programs. A national spokesperson was Carl Lewis, perhaps the greatest Olympic athlete of all time. It received a remarkable amount of support from virtually every health care profession. Dentists used it for TMD and general tooth pain. Acupuncturists used it to simulate needle insertion and to search for and measure points. Trainers used it to speed up the healing in an injured area. Chiropractors used it for pain control and healing. Medical Doctors used it to repair macular degeneration and speed up the healing of fractures. Cosmetologists used it for facial rejuvenation programs to lessen skin wrinkles. That is an amazing array of uses from a single device. And for ten years clinical microcurrent ruled the healing world. So what happened? Let me start by explaining the part I played in all this.

I started my practice in 1978, you know in the last century. About a year later a couple of doctors in my local support group talked about visiting an old Chinese doctor about a new machine he had invented. The doctor turned out to be Dr. Thomas Wing, a chiropractor, naturopath, licensed acupuncturist and electrical engineer. It was reported that Dr. Wing sold the patent for the first personal pager to Motorola. As an acupuncturist, Dr. Wing was looking for a better way to perform electro acupuncture and to measure the electrical resistance of points. The device he developed used an extremely low current, about 1,000 times lower than the TENS devices I was designing and building at the time. He also incorporated a slowly alternating polarity, and used frequencies below 1Hz. He called this new configuration a Tsunami Wave due to its building a charge in the body and then a release of power.

Next thing I know my buddies came back with a machine and a contract to be dealers for Dr. Wing's company Monad.

So I bought a machine, at that time named the Acu-O-Matic. I promptly started using it to treat athletes for the various schools I worked with, and various pro tennis players I had come into contact with through the years. It worked great. The TENS machines I was manufacturing worked great to block pain, but didn't do anything to enhance healing. Wing had stumbled upon something very special. So, I started designing devices that could deliver what Wing had discovered.

Fast forward to 1990. By that time I had retired from practice and had built Ventura Medical Equipment (Later VME, Inc.) to be the largest manufacturer of clinical microcurrent units, as well as other types of electrical stimulators. So what happened to the marketplace for clinical microcurrent units? In my opinion four things happened around the same time. In 1993 I retired after having licensed my microcurrent design to several other companies, intending to live off the royalties. A couple of years later Dr. Wing retired. When Wing and I left the scene so did all the major advertising dollars we spent, and most of the microcurrent seminars stopped. Then, within six months of each other, the companies to which I licensed the design all folded for various reasons. I took back the design and started production again, but something new had entered the marketplace, something that to this day is continuing to hold back clinical microcurrent stimulators.

The absolute success of clinical microcurrent led to imitation products, cheap imitation products. You still see ads for them today, portable "microcurrent" stimulators for around $50. These devices are microcurrent in output only. But output is only one of the important parameters developed by Dr. Wind to create a Tsunami wave. These portable devices cannot possibly get the same results because they don't work by the same mechanism.

Here are the electrical parameters you must have to be considered a true clinical microcurrent stimulator:

Constant Current Generator
Getting such a small current into the body means overcoming the inherent resistance in the electrical circuit and skin resistance. A constant current generator, based on the resistance it encounters, will vary the available voltage to maintain the selected microamp output. The cheap portable devices are constant voltage rather than constant current. The selected output cannot be maintained. Since microcurrent stimulation is subsensory, having a constant current generator is critical to success.

+/- 60 volts
In order to push such a small current through the resistance of the circuit and the skin there must be sufficient voltage available. The average resistance of the skin is 10,000 Ohms. To push the maximum output of 600 microamps through that much resistance you need 60 volts available to the circuit. Most cheap units only have about 20 volts or less available to their circuit.

Frequencies Below 1 and a 50% duty cycle
Duty cycle refers to how long the current is "on". So, 50% Duty Cycle means the current is on half of the time, based on the frequency. If the frequency is set to 1 Hz the current will be delivered for ½ second as a constant direct current. As the frequencies get below 1, the duration increases. The advantage of this is that there is much less skin resistance to a direct current than to a pulsed current. The cheap devices have duty cycles measured in microseconds rather than seconds. A constant current is never delivered.

So while these small cheap "microcurrent devices" technically put out a current measured in microamps, their other parameters virtually doom them to fail as a clinical microcurrent device. Unfortunately, when these devices started to flood the marketplace, many doctors decided to try a cheap device before investing in a true clinical device.


By 1994, I again "retired" after licensing the design rights to another company. By that time Dr. Wing had also retired leaving the microcurrent field without its two biggest promoters. No more advertising campaigns, no more seminars or magazine articles. Microcurrent technology literally stopped being a player overnight.

Over the next 14 years I watched from the sidelines as other devices, more specifically LASERS, began to make inroads into the marketplace by making claims virtually identical to what microcurrent was proven to do two decades earlier. When the company I licensed the rights to the AXION micro5went bankrupt in 2005, I again could start manufacturing again, but by that time I had moved on to developing software and running that company. I kept my hand in microcurrent, continually developing new technique and protocols and with helping other companies sell their equipment.

After helping to sell the Mens-O-Matic, the Acu-O-Matic and the Amrex MC 1000, I realized I missed the AXION micro5, its features and it durability. In the Winter of 2013 I decided to begin production again.

How does it compare to a LASER? Think: Better Results, Lower Price. And, you don't have to go to a seminar to learn how to use it. And, you will get reimbursed. Classified as a TENS device, both attended and unattended codes are available to you, as the AXION micro5 delivers current through either probes or pads.

After purchase of the AXION micro5 we will send you our complete microcurrent kit that includes the following:

Charts

Addiction and Detox Ear Point chart for Weight Loss, Stop Smoking, Stop Drinking and general Detox points.

Facial Rejuvenation points and general rejuvenation techniques.

Manuals

Formula Points and pad placement reference manual for over 70 musculo-skeletal conditions. Includes full treatment parameters.

Facial rejuvenation manual. Complete seminar type information on this exciting program that has a 25 year success history.

Online Video

Unlocking the Secrets of Microcurrent Therapy. This 45 min video teaches you about various electrical parameters (difference between volts and amps for example) and illustrates various special microcurrent techniques. It's like taking a weekend seminar.

Clinical Microcurrent is one of the most researched modalities with over 250 peer-reviewed papers published to date. The following is a paper written by Robert Picker MD about the powers of microcurrent.

More information

What follows is a recap of information regarding microcurrent stimulation.

Dynamic Chiropractic November 7, 1990, Volume 08, Issue 23
M.E.N.S.: A Revolutionary New Electrotherapy -- Part I

A revolutionary new type of electrotherapy has leaped into the national and international spotlight, thanks to endorsements from some of the world's top athletes and sports therapists, as well as its increasing utilization among the progressive chiropractic community for a wide range of clinical problems.

This modality is low-volt, pulsed microamp stimulation, commonly referred to as "M.E.N.S.," a contraction for Microcurrent Electrical Neuromuscular Stimulation. M.E.N.S. emerged into the physiotherapy marketplace as the brain child
Dr. Thomas Wing, chiropractor and successful electronics inventor. The secret of Dr. Wing's technological breakthrough is the infinitesimally small microampere currents it utilizes, referred
as "microcurrents," delivered via his patented "Tsunami" waveform. One microampere is only a millionth of an amp, and is only 1/1000th of a milliamp. Traditional electrical stimulation (TENS, EGS, EMS, conventional interferential) all utilize milliamps designed to stimulate sensory and/or motor nerves. Microamp stimulation, on the other hand, is designed to be used at subtle subsensory levels which appear able to amplify and augment the naturally occurring biological electricity used by Mother Nature to heal injuries.

These injury currents have been described by a number of prominent researchers, including Robert O. Becker, M.D. (Becker 1985); Bjorn Nordenstrom, M.D. of Sweden; and Richard Borgens, Ph.D. at Purdue University. These researchers agree that the body does have a means of activating its own semiconductor bioelectric circuits to send endogenous biological electricity where it is needed for healing. Becker proposes that these electrical signals are conducted through the Schwann cell and glial cell perineural sheath, while Nordenstrom postulates that the insulation properties of the arterial microcapillaries can be adjusted by the body to shunt bioelectricity into the area of injury through the blood stream. Dr. Becker additionally proposes that the classical description of acupuncture meridians are actually maps of this glial cell network which parallel the peripheral nervous system. The direct current (d.c.) injury currents conducted through this system, according to Becker, are the naturally occurring bioelectric signals for tissue repair and regeneration, and that acupuncture points are maximally conductive windows into this bioelectric system serving as amplifiers to compensate for downstream damping of signal strength.

Numerous studies have measured these injury currents and found them to be microampere microcurrents (Illingsworth and Barker, 1980; Borgens et al., 1979; Barker, Jaffe, and Vanable, 1982; Borgens et al., 1980). A growing number of studies have appeared documenting the enhanced healing effects of microamp stimulation (Carley and Wainapel, 1985; Assimacopoulos, 1968, Wolcott et al., 1969; Gault and Gatens, 1976; Barron et al., 1985, Alvarez et al., 1983; Nessler and Mass, 1985; Stanish, 1984). Researchers and knowledgeable clinicians increasingly recognize that if the ultimate clinical goal is to heal the injury, above and beyond simple short-term electroanalgesia, microamp stimulation is the modality of first choice. The combination of outstanding pain relief as well as enhanced healing makes M.E.N.S. therapy a double winner. A large pilot study has recently been completed by Lynn Wallace, a prominent physical therapist from Cleveland, Ohio. This study measured the rate of response to M.E.N.S. on a group of 1500 patients suffering from a wide range of clinical conditions presenting to a private practice. Approximately 50% of these cases were acute, 30% subacute, and 20% chronic. Thirteen different categories of injury were monitored, including both radiating and non-radiating lumbar or cervical pain, ankle and foot pain, lower extremity muscle injuries, as well as shoulder and elbow injuries.

By any standard of measure, the results were quite remarkable. Ninety-six percent of these patients responded to this modality with significant pain relief. The average decrease in pain with a M.E.N.S. treatment was 55%. If frequency of treatments was given as close to daily as possible, the accumulating net improvement with each treatment was 25-30%. This rate of improvement resulted in a complete resolution of pain, across all categories of injury, in an average of just four treatments. Even radiating lumbar and cervical pain resolved completely within an average of 4.5 treatments with M.E.N.S..
Another study utilizing microamp stimulation which should be of interest to chiropractors demonstrated the results of this modality on a group of 40 patients with chronic low back pain. These patients were divided into an actual stimulation group and a placebo group. The study was conducted in a double-blind fashion. Three treatments per week were given for two weeks. The subjects in the real treatment group experienced an average pain relief of 37% greater than the placebo group. Even more interesting were the findings at the two month, post-treatment follow-up, which showed a 75% reduction of pain in the real treatment group, versus only 6% in the placebo group (Learner and Kirsch, 1981).

Another interesting double-blind study which has just been completed at Oakland University in Detroit, demonstrated the ability of M.E.N.S. to prevent muscle breakdown after an intense muscle workout, as demonstrated by reduced muscle soreness and diminished release of creatinine phosphokinase (CPK), the enzyme released with muscle breakdown. This study corroborates the anecdotal reports of many of the world's top athletes; that this modality has enhanced their training and staved off the muscle problems and injuries which so often interfere with performance.

Dynamic Chiropractic November 21, 1990, Volume 08, Issue 24
M.E.N.S. -- A Revolutionary New Electrotherapy -- Part II

Biochemical Battery Recharging and the Arndt- Schulz Law

The electrochemical fuel for cellular metabolism is adenosine triphosphate (ATP). This is not to be confused with ATPase, the enzyme which degrades ATP. A study with important implications for clinicians interested in enhancing healing was done at the Department of Biochemistry and Orthopedic Surgery, University of Louvain, Belgium (Cheng et al., 1982). This study found that it was possible to increase tissue ATP levels by almost 500 percent with microamp stimulation, which the authors concluded was a "remarkable increase." Likewise, other factors vital to the tissue repair and regeneration were also enhanced with this stimulation, with membrane transport and protein synthesis increased by 30-50 percent.

However, if one looks at the effects of increasing the levels of stimulation up to the milliamperage levels used by most clinicians, a most interesting finding was noted: Not only did the level of all three of these vital factors fail to be enhanced above baseline control levels, they were actually retarded below baseline levels. ATP generation was actually suppressed with milliamperage. The results of this study support the hypothesis frequently cited in papers in this field, referred to as "The Arndt- Schulz Law." This theory states: "Weak stimuli increase physiological activity and very strong stimuli inhibit or abolish activity." (Dorland's Illustrated Medical Dictionary, ed. 26, 1985). Could it be that we have been shouting at the body with traditional miliamperage electrical stimulation when we would be better advised to whisper to it in the more subtle microampere language of its own endogenous bioelectric healing system? I believe so, as do a growing number of researchers and clinicians. As research evidence builds and the word spreads among practitioners, M.E.N.S. is sure to become increasingly acknowledged as a star performer in the world of physiotherapy.

Complement to Chiropractic

Chiropractors report that the success and ease of their adjustment methods are consistently enhanced by using M.E.N.S. either before and/or after manipulation. The treatment usually consists of 2-5 minutes of manual point stimulation followed by the possible addition of 5-10 minutes of unattended treatment with pads. This is a very time effective therapy, which is made even easier by treating right through the patient's clothing with moistened cotton swabs held in stainless steel hollow swab holders, avoiding the necessity of gowning. Rapid patient flow can be maintained using it in this way.

The impressive results M.E.N.S. adds as a clinical complement to chiropractic certainly merit the brief time it takes to administer a treatment. A number of techniques have been developed to maximize the results of M.E.N.S. These techniques include "Enhancement of Muscle Re-education" (EMR), "Golgi Tendon Organ" (GTO), and "Enhancement of Tissue Repair" (ETR). Many practitioners are starting to use a new technique which incorporates hands-on soft tissue manipulation, such as friction massage and manual trigger-point releases, utilizing fingers electrified with microcurrents. This technique is often referred to as "electromassage," and produces excellent results with tight, contracted muscles and/or scar tissue, as well as hot or cold trigger points.

Sports Therapy

M.E.N.S. has been featured in numerous press stories about famous athletes who have experienced its efficacy first-hand. Some of the athletes who have reported success include Magic Johnson and Michael Jordan in basketball; as well as Carl Lewis, Jackie Joyner-Kersee, Roger Kingdom, and Steve Lewis in track, all of whom were gold medalists at the 1988 Seoul Olympics. The therapists at Seoul for the U.S. team specifically requested the loan of one of Dr. Wing's M.E.N.S. instruments for use on the athletes. Professional sports teams such as the San Francisco 49ers and Seattle Seahawks football teams, the New York Mets in baseball, and seven of the eight finalists in the 1990 playoffs of the National Basketball Associations, all used Dr. Wings's M.E.N.S. therapy.

Beyond Electroanalgesia

There are many electrical stimulation devices on the market which can produce temporary electroanalgesia, also called "hyperstimulatory analgsia." These devices probably close neural gates to pain in the substantia gelatinosa of the spinal cord (Melzak and Wall, 1965), and/or stimulate the release of endorphins and enkephalins to obtain opioid type analgesia. M.E.N.S., however, with its subsensory currents, appears to be working at the local tissue level to achieve anti-inflammatory effects and speed tissue repair and healing. The pain relief it provides, as dramatic as it is, is more a beneficial side effect of the favorable physiological tissue changes it produces. Practitioners must ask themselves, with the advent of M.E.N.S., whether their aim is to mask pain or to uproot its cause. Because the answer to this question for so many chiropractors is the latter, M.E.N.S. therapy is being increasingly selected by informed practitioners as the physiotherapy modality which most fits the bill for them.

Robert I. Picker, M.D. Walnut Creek, California

RESEARCH ARTICLES
Microcurrent Electro-Physiology
Research Abstracts: 1985 - 1999
KEYWORDS: wound healing, scar, ulcers, direct current
l) Carley and Wainapel: Electrotherapy for Acceleration of Wound Healing: Low Intensity Direct Current Archives of Physical Medicine and Rehabilitation, Vol. 66, July 1985
Summary: 30 hospital patients with non healing ulcers were divided into two groups, one treated with conventional wound dressings and one with microcurrent stimulation at 300-700 uA. The latter group was given two two hour stimulation periods per day. After six weeks of such treatments, the group treated with microcurrents showed a 150-250% faster healing rate , with stronger scar formation, less pain and lessened infection of the treated area
KEYWORDS: microcurrent, polarity, healing, scar, antibacterial
2) Wolcott, Wheeler, Hardwicke, and Rowley: Accelerated Healing of Skin Ulcers by Electrotherapy Southern Medical Journal, July 1969.
Summary: These researchers applied microcurrent stimulation ranging from 200-800 uA to a wide variety of wounds, using negative polarity over the lesions in the initial phase, and then alternating positive and negative electrodes every three days. The treated group showed 200-350% faster healing rates than control, with stronger tensile strength of scar tissue and antibacterial effects in infected wounds in the treated group.
KEYWORDS: ulcers, polarity, stimulation, quadriplegia, healing
3) Gault and Gatens: Use of Low Intensity Direct Current in Management of Ischemic Skin Ulcers Physical Therapy, Vol. 56, #3, March 1976.
Summary: 100 patients with skin ulcers were treated with microcurrent stimulation; six of them had bacterial ulcers with one side used as controls. Stimulation of 200-800 uA was applied, with negative polarity used until infection cleared, and then polarity reversed. Patients had diagnosis ranging from quadriplegia, CVA, brain tumor, peripheral vascular disease, burns, diabetes, fracture, and amputation. The lesions with patients treated with currents showed approximately twice as fast a healing rate.
KEYWORDS: accelerated, wound healing, current, ATP, amino acids, b
4) Cheng, et Al: The Effects of Electric Current on ATP Generation, Protein Synthesis, and Membrane Transport in Rat Skin Clinical Orthopaedics and Related Research, #171, Nov/Dec. 1982
Summary: These researchers used in vitro slices of rat skin to determine some of the biochemical explanations for accelerated wound healing demonstrated in the above studies. By applying various levels of current to the samples, and then chemically analyzing them, they determined that skin treated at currents below 1000 uA showed up to 75% higher amino acids and up to 400% more available ATP than controls, and that skin treated at levels above 1000 uA showed depressed levels of of these substances. Often less than non-treated controls.
5) Rowley, McKenna, and Wolcott: Proceedings: Use of Low Level Electrical Current for Enhancement of Tissue Healing. Biomedical Scientific Instruments #10, 1974
Summary: This article is an overview of theory and research into the titled field.
KEYWORDS: microcurrents, bone, healing, remodeling
6) Tomoya Ohno (Japanese): Experimental Studies of Influences on Healing Process of Mandibular Defect Stimulated by Microcurrent Shikwa Gakuho, #82 1982
Summary: 50 uA microcurrents were applied to one side of the jaws of a group of dogs with lesions in their jaws. The other side was untreated. The dogs were examined at periods of 3, 7, 14, 21, 28, 42 and 56 days. Results: "It seems likely that direct microcurrent promotes normal bone formation within the defective area and accelerates the osseous healing process. Prolonged application of electrical stimulus promotes a remarkable bone remodeling mechanism."
KEYWORDS: post traumatic, microcurrent, modulated
7) Sinitsyn, Razvozva (Russian): Effects of Electrical Microcurrents on Regeneration Processes in Skin Wounds Ortop Travmatol Protez, Feb. 1986
Summary: 68 patients with post burn and post traumatic wounds underwent treatment constant and modulated microcurrent of negative polarity of 1-10 uA/cm2 over a period of 2-20 days. Although both groups showed accelerated regeneration, the modulated electric current group showed more prolonged and marked effect. Better survival of skin grafts was demonstrated compared with untreated patients.
8) Sinitsyn, Razvozova, (Russian): Stimulation of the Regeneration of Skin Wounds by Microcurrents Vopr Juroortol Fizioter Lech Fiz Kult, Nov.-Dec. 1985
KEYWORDS: tendons, stimulated, stimulation, proline
9) Nessler and Mass: Direct-Current Electrical Stimulation of Tendon Healing in Vitro Clinical Orthopedics and Related Research, April 1987
Summary: 80 tendons from white rabbits were surgically transected and removed from the animals after being surgically repaired. They were divided into 4 groups of 20, and cultured with 10 of each group being electrically stimulated, and half not. A 1.4 volt direct current connected through a 150 kOhm resistor was used for stimulation, at a current of about 7 uA. It was found that currents any higher than this caused discoloration of the tendons. Healing was measured by proline uptake and bridging of the repair site by the epitenon. Results: "a continuous direct current causes increased tendon cell activity within seven days and the increased activity may persist as long as 42 days." The researchers suggested that externally applied microcurrents may be preferable in future studies.
KEYWORDS: tendon, Achilles
10) Stanish and Gunlaughson: Electrical Energy and Soft-Tissue Injury Healing Sportcare and Fitness, Sept/Oct 1988
Summary: This article is a summary of research into tendon healing acceleration, including human injuries of the anterior cruciate ligament and the Achilles tendons: "While the results are subjective, the individuals in both groups appear to have returned to usual activities more quickly, and have greater mobility, than people treated more conventionally".
11) Vanable, Joseph: The Role of Endogenous Electrical Fields in Limb Regeneration Limb Development and Regeneration, Part A. pages 587-596 Alan Liss Publishing, N.Y. 1983
KEYWORDS: Achilles, tendon, anodal, cathodal, microamps, load
12) Oweye, Spielholz and Nelson: Low-intensity Pulsed Galvanic Current and the Healing of Tenotomized Rat Achilles Tendons: Preliminary Report Using Load-to-Breaking Measurements Archives Physical Med Rehab, Vol. 68, July 1987
Summary: 60 rats were divided into three groups of 20. One was unstimulated, one group had their Achilles tendons stimulated with positive (anodal) current, and the third group's tendons were stimulated with negative (cathodal) currents. A current of 75 microamps, at 10 Hz was used. Results: "The group treated with anodal current withstood significantly greater loads (p<0.001) than did either the group which healed normally (i.e. without stimulation) or the group treated with cathodal currents".
KEYWORDS: wheatstone, conductance, acupuncture, points, conduc
13) Reichmanis, Marino, and Becker: Electrical Correlates of Acupuncture Points IEEE Transactions on Biomedical Engineering, November, 1975
Abstract: Employing a wheatstone bridge, skin conductance was measured over those putative acupuncture points on the large intestine and pericardium meridians lying between the metacarpophalangeal joints and the elbow. Results were compared to those from anatomically similar locations devoid of acupuncture points. "At most acupuncture points on most subjects, there were greater electrical conductance maxims than at control sites".
KEYWORDS: patch clamp, currents, membranes, diabetes, ion chann
14) reported by Lawrence Altman: Cell Channel Finding Earns Nobel Prize New York Times Medical Science section, October, 9, 1991
Summary: Two German scientists, Dr. Erwin Neher and Dr. Bert Sakmann, will share the $1 million dollar Nobel prize for their development of the patch-clamp technique that allows the detection of minute electrical currents in cell membranes. This discovery, which "revolutionized modern biology" may shed light on the causes of several diseases, like diabetes and cystic fibrosis. This method allowed the detection of 20 to 40 types of ion channels that allow positive or negatively charged ions into and out of the cells. "This study confirmed that electrical activity is not limited to nerve and muscle tissue, as previously thought, but is intrinsic to 'all kinds of other cells'".

15) Richez, Chamay and Bieler, U. of Geneva: Bone Changes Due to Pulses of Direct Electric Microcurrent, Virchows Arch. Abt. A Path Anat. 357, 11-18 (1972)
Summary: 26 rabbits had platinum electrodes surgically implanted into the medullary cavities of their humerus bones. Microcurrent stimulation was applied at 50 and 250 uA, allowing pause periods of one second between one second treatment bursts. The scientists found that osteogenesis (bone growth) happened more around the cathode (negative polarity), and that slight tissue necrosis occurred around the anode. The tissues stimulated acted as capacitors, discharging 75% of the current absorbed during the rest periods. They concluded that pulsed current is superior to direct current for bone healing acceleration.
KEYWORDS: silver, staphylococcus, infection, anodal
16) J.A. Spadaro, S.E. Chase, and D.A. Webster: Bacterial inhibition by electrical activation of percutaneous silver implants, Journal of Biomedical Materials Research, Vol. 20, 565-577 (1986)
Summary: Percutaneous silver wire implants were placed in rats, and the wounds inoculated with Staphylococcus aureus to test how much infection would spread. Microcurrent stimulation was passed through the wires, with + anodal current placed into implanted silver wire, and the - cathodal electrode placed on the rat's belly as a ground. It was found that significant inhibition of infection occurred, with the most marked results at 20uA current level. "Metallic silver can be effectively and efficiently activated to elicit its anti-microbial activity by the application of microampere electrical current."
KEYWORDS: pulsed, Yucatan pigs
17) Byl, McKenzie et.al.: Pulsed Microampereage Stimulation: A Controlled Study of Healing of Surgically Induced Wounds in Yucatan Pigs, Physical Therapy, Volume 74, Number 3/March 1994
Summary: This study failed to confirm the superiority of microcurrent-stimulated wounds in test pigs over controls. A good review of previous studies is given as well as a discussion of which research variables could account for the inconclusive results, which vary from other studies that found microcurrent to be efficacious for wound healing.
KEYWORDS: microcurrent, TMJ, laser, placebo
18) Bertolucci and Grey: Clinical Comparative Study of Microcurrent Electrical Stimulation to Mid-Laser and Placebo Treatment in Degenerative Joint Disease of the Temporomandibular Joint, Journal of Craniomandibular Practice, 1995
Summary: 48 patients were divided into three groups, some receiving placebo, some microcurrent and some laser to treat pain of TMJ sydrome. Both microcurrent and laser were found to be significantly more effective than placebo, with laser slightly more effective than microcurrent. The author acknowledges that lasers are not legally sold in the United States for this purpose, and that microcurrent's easy accessibility makes it more practical for practitioners here.
Keywords: EEG, FFT, chaos analysis, neurofeedback, microcurrent
19) M. Heffernan: Comparative Effects of Microcurrent Stimulation on EEG Spectrum and Correlation Dimension, Integrative and Behavioural Science, July-September, 1996, Vol. 31, #3
Summary: 30 subjects were selected for a study comparing the effects of microcurrent on smoothing of EEG measurements of the brain. Subjects were randomly assigned to three groups - microcurrent (100uA) applied to earloble, trapezius area of shoulder, and no stimulation. Electrodes were arranged so subjects could not tell which group they were in. Fast Fourier Transform (FFT) and correlation dimension from chaos analysis were used to measure results. The researcher found that microcurrent applied to the shoulders was markedly more effective in smoothing EEG patterns than earlobe or placebo. "This would represent a possible cost-effective alternative to neurofeedback in treating (anxiety and attention deficit disorders), by raising low regions in the FFT.
Keywords: Trigger points, TP, temporomandibular, conductivity, GSR
20) DuPont: Trigger Point Identification and Treatment with Microcurrent, The Journal of Craniomandibular Practice, October 1999, Vol. 17, #4
Summary: This article gives the author's techniques for locating and stimulating trigger points (TP's) using a microcurrent stimulator, specifically for the treatment of temporomandibular disorders. He states that electrical conductivity is highest over trigger points, and galvanic skin response (GSR) testing can be used to locate such points. He utilizes probe electrodes to treat small TP's, and pad electrodes to treat larger ones. Probe treatment is delivered @ 0.3 Hz, 20 - 40 uA, with treatment time of 10 - 30 seconds per site. He suggests administering treatment in 24-48 intervals, and states that results should be seen within 2 - 3 treatments. He acknowledges that these protocols are not necessarily the best ones, but work well for his practice. 2) Vanable, Joseph: The Role of Endogenous Electrical Fields in Limb Regereration Limb Development and Regeneration, Part A, pgs. 587-596, Alan Liss Publishing, N.Y., 1983 2) Vanable, Joseph: The Role of Endogenous Electrical Fields in Limb Regereration Limb Development and Regeneration, Part A, pgs. 587-596, Alan Liss Publishing, N.Y., 1983
---
---
the following are personal observations by Dr. Joe Ventura
AXION micro5 for any practitioner that deals with pain patients
The AXION micro5 SP is an outstanding device to locate and treat acupuncture points and trigger points. Treating the points associated with various pain syndromes and then passing the healing current (ETR) through the area, delivers a powerful one-two knockout punch for pain. The AXION micro5 technology enjoys a 30 year success history, longer than any other microcurrent device. I have personally used it on professional athletes, world-class college and high school athletes and on my non-athlete patients, all with outstanding success.
Our exclusive AXION micro5 package comes with Acupuncture point and trigger point formulas for over 70 different common musculo-skeletal conditions.
AXION micro5 SP for TMJ Pain Control and Healing
In 1984 I developed one of the first TENS devices for the Denar Corp and worked for several years with Jack Haden, DDS teaching microcurrent healing at his TMJ seminars. I know first hand that clinical microcurrent stimulation can control the pain associated with TMJ and the ETR wave can help normalize the associated muscles greatly helping the other techniques you employ.
The AXION micro5 comes with detailed TMJ charts and reference materials. Start using it right out of the box!
AXION micro5 for Facial Rejuvenation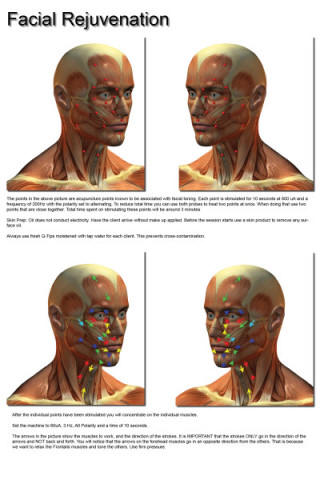 A quick review of the Internet shows that microcurrent stimulation is still a very big business in the facial rejuvenation field. That is because thirty years later it still works to tone the underlying muscles.
What many don't know is that facial rejuvenation was invented by Dr. Thomas Wing and Dr. George Goodheart through their work in muscle re-education. I was among the first group of doctors to use their techniques and Dr. Wing's patented equipment.
I opened the first clinic in Kansas City for performing such a service in 1984.
Unfortunately what I also discovered during my Internet search is that many of the current facial rejuvenation techniques have little in common with the original system, and in many cases the current techniques act contrary to laws of physiology.
I am pleased to offer the original facial rejuvenation protocols updated with new charts and manuals. And the new AXION micro5 SP, the descendent of the original machines, is the premier microcurrent stimulator to perform the protocols.
And because the original protocols are so effective, your time is cut down to about 15 minute, per client.
The protocols include BOTH the correct acupoints to stimulate and the muscles to work and how to work them. And because the AXION micro5 was the original facial rejuvenation machine, you can be assured of the results.
It also comes with our exclusive facial rejuvenation training material that includes detailed charts and reference materials to get started right, and right away.
---
Dr. Thomas Wing a licensed acupuncturist, chiropractor and naturopathic doctor from California originally developed the AXION micro5 SP to be the premier electroacupuncture device. He and others at the time, were looking for a way to simulate needle insertion using electrical impulses. During his research he discovered that the boy reaction to a positive stimulation current was enhanced if a negative current was used first. This was later born out to be true in published research.
Dr. Wing also understood that the body's tissues were capacitive in nature. That is, charges could be stored and then released when a certain level was achieved. He built into his machine a circuit that would let the operator know when the body had released that charge.
So, the AXION micro5 SP has several features that make it the premier electro acupuncture device.
Very stable searching meter that displays both 0-100 and 0-200 ranges simultaneously

Tsunami Wave© stimulation of points either from a single or dual probe system

Feedback loop to ensure the current is being delivered

Feedback loop to show success of current delivery
As a chiropractor and acupuncturist allowed to perform needle insertion in Kansas in the 1980's, I can testify that this device is so effective you will consider never using needles again. Dr. Ventura
---
It started in the 1980's. Jack Scott PhD began using microcurrent stimulation on several world class track athletes with whom he had associated. Word of the fantastic success spread quickly through that community and soon he was treating the best in the sport. Through the efforts of Dr. George Goodheart who was part of the official medical team in the 84 Olympics, the AXION micro5 SP was used an an official modality and help many an Olympic athlete through their minor, and not so minor aches and pains of Olympic competition.
After the Olympics there was no stopping the success of the AXION micro5 SP. Many professional athletes now demanded microcurrent as part of their rehab process. Virtually every major professional sports team had a device. Some athletes like Carl Lewis, possibly the greatest Olympic athlete ever, carried their own unit wherever the went to compete.
My personal experiences were in treating athletes at the 1986 U.S. Open Tennis Tournament and with the various high school and college athletes I treated in my practice. I've had the fortune of having virtually every modality at my disposal during my practice years. By far, the best technology for speeding up the healing in an injured area is clinical microcurrent and the best machine is the AXION micro5 SP. Dr. Ventura
---
Why the AXION micro5 SP is NOT Frequency Specific Microcurrent (FSM)
FSM is the brain-child of Carol McMakin DC. It is based on the work of Albert Abrams MD. Dr. Abrams holds the distinction of perhaps being the greatest medical charlatan of all time. He believed that every disease had a frequency and if you bombarded the body with the exact frequency of the disease you could neutralize the disease. He created a device that he leased to other doctors with the understanding that if you broke the seal and opened the box you could no longer use it, it must be returned. His device never passed a single test of scientific scrutiny in the U.S. or in Great Britain, earning the disapproval of both the AMA and the British Medical Association. Abrams work was championed in the 60's by Royal Rife and now by Dr. McMakin.
Unfortunately there is still no proof that FSM is any better of different than conventional microcurrent. If fact, I have a great concern that FSM protocols do not take into account that crossing currents of different frequencies try to cancel each other out. This means the actual treating, or beat frequency, is the difference between the frequencies of the two channels.
Understand this: The Current of Injury of the body is a continuous current of DC electrical energy, negative in polarity. The Current of Healing is the same, but positive in polarity. Continuous means constant, as in no frequency. Doesn't it make more sense to use the EXACT same parameters as the body does? That's what the AXION micro5 SP uses.
Until adequate research is done to establish that FSM is truly unique and that the body is really frequency specific in the healing process, FSM must be regarded with skepticism.
My opinion, and I would love further discussion on this. JV
P.S.
In February of 2011 Dr. McMakin and I had several e-mail exchanges regarding FSM versus traditional microcurrent. I have examined all her "research" and I continue to believe that her results are happening as a natural effect of microcurrent stimulation and in spite of her frequency specific protocols.
Send us a Message with Your Questions or Comments
*Disclaimers: Claims for effectiveness regarding weight loss, smoking cessation, fibromyalgia and facial rejuvenation are not meant to imply that everyone will benefit from microcurrent therapy. Microcurrent therapy is generally used as part of an overall treatment strategy developed by your doctor or therapist. They will determine the effectiveness of using microcurrent therapy and adjust your treatment plan accordingly.