Welcome to PosturePro.com "What's Your Posture Number?"®

We developed the first posture analysis system to analyze digital posture images in 1994 and have never looked back. For over 20 years we have been the leader in posture analysis software and correction strategies. Thinking about using a phone app for posture? Think again. Use the right tools for the task at hand and you will never be disappointed.
We are committed to providing serious professional software to get the job done quickly and accurately. We also have developed an entire line of marketing tools to help expand the use of posture analysis in your area.
---
Use the navigation links above or use these Quick Links
1. Posture Pro
4. Microcurrent
5. Support
What's New For 2015
Posture Pro 8 - Fastest, most accurate Posture Pro ever! Click Here for More Details
Posture Blocks - Passive Traction for at home correction of FHP Visit the Posture Blocks web page for complete details.
---
Watch Our New Posture Pro 8e Movie
---
---
---
Posture Pro 8. Supports 32 and 64 Bit Versions of Windows XP, VISTA and Windows 7 and 8.
Posture Pro is now a complete turn-key system that offers software, marketing tools and expert support and training. Still the #1 system world-wide.
Fifteen years ago Posture Pro started the posture analysis revolution and today it's still the #1 system. Each month over one million exams are performed by 10,000 customers in 45 countries.
Posture Pro version 8 continues the tradition of fast spinal screenings and accurate clinical exams. New in version 8 is a Loss of Height feature that estimates how much height has been lost due to the abnormal posture. AND, a new Spinal Stress Calculator to show actual mechanical stresses on the spine.
Unlike other companies, we still don't charge for basic technical support or software updates. Call today for your private live Internet demonstration of this powerful clinical and management tool.
---
Posture Blocks™
Passive System of Posture Correction (Patent Pending)
Created by Dr. Joe Ventura, Posture Blocks is not a pillow but rather a therapeutic cushion system of foam blocks that provide anatomical resistance and traction to reverse the effects of Forward Head Posture.
Visit the Posture Blocks web page for complete details.
---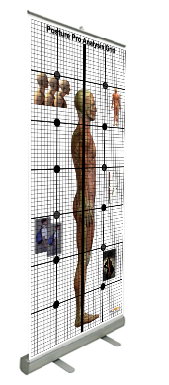 #1 Selling Posture Grids on Amazon.com. See Why!
---
---
Major Posture Studies

Be sure to download the latest Posture Study. It could change everything you think about posture as a clinical tool, for the better! Click Here (It's an acrobat pdf file)


SPINE, 2005 • "All measures of health status showed significantly poorer scores as C7 plumb line deviation increased." Journal of the American Geriatrics Society, 2004 • "Older men and women with hyperkyphotic posture have higher mortality rates. American Journal of Pain Management, 1994 • "Spinal pain, headache, mood, blood pressure, pulse, and lung capacity are among the functions most easily influenced by posture." Archives of Internal Medicine 2007 - Loss of Height Linked To Heart Disease And Early Death • "Height loss was associated with a 42% increased risk of coronary events such as heart attacks, even in men who had no history of cardiovascular disease.
---
---
Contact us